Company Information |Company History |ACCESS|Environment, Quality policy
ACCESS
Main office and factory
3-9-18, Musashino, Akishima-shi, Tokyo, Japan 
Postal Code:196-8501 
Tel: +81-42-544-6211 Fax: +81-42-544-6246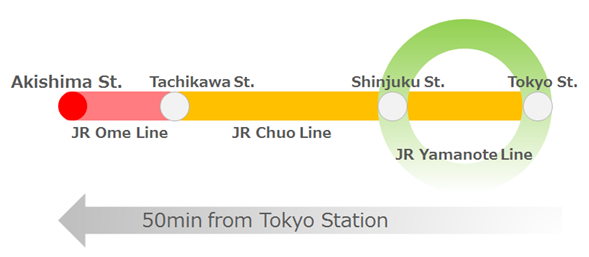 Your visiting to our office for the business discussion will be very welcome.
Our office is located at Akishima city.
To Akishima Station, 50 min from Tokyo Station by Special Rapid JR Chuo line.
From Akishima Station to our main office, 20min distance by walk.
And it's our pleasure to go to pick you up to the JR Akishima Station.
So please contact us in advance and let us know when you would like to visit us.
Hokkaido Technical center
Eniwa RB Park building E-212, 3-1-1, Meguminokita, Eniwa-shi, Tokyo, Japan
Postal code: 061-1374 
Tel: +81-123-25-6795