What is an Insulated probe?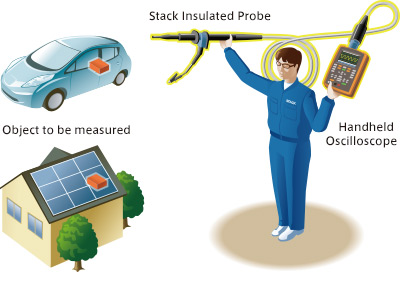 * The yellow-line around the probe illustrates the insulation. In the case that both the object to be measured and measuring equipment are off the ground, measuring the voltage using a normal probe can result in the risk of electric shock for user.
In recent years, electronic products such as electric vehicles (EV) and private power generation have become more and more a part of our lives. Accordingly, the need to measure the state of control circuits for these electronic products is on the rise for situations where objects are insulated against high voltage and grounding (i.e., roofs/tires).
The insulated oscilloscope designed to insulate between the ground and users can yield safe and accurate measurements. Under these circumstances, it is necessary to also consider the use of insulated oscilloscope probes.
In the worst case scenario, if an insulated object is measured by a probe which has live electrical parts on its surface, the user who stands on the ground is at risk of electric shock.
For these dangerous situations, our new insulated probe covered with insulated materials is designed with excellent humidity resistance, high temperature tolerance and is able to withstand high voltage.
Applications (with Oscilloscope (Insulated))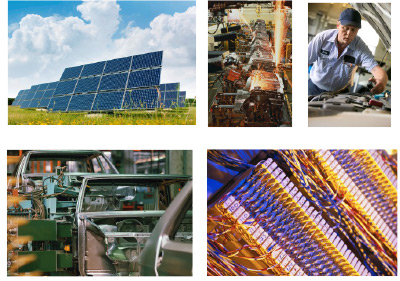 Measuring voltage at manufacturing sites under high temperatures and high humidity
Measuring voltage outside
Measuring switchboards and power meters
Measuring voltage on production lines
Measurement for private electric generator
Measuring private solar power generator
Product Characteristics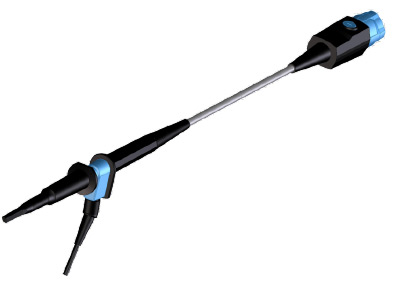 Excellent durability
Operating maximum temperature: 85 degrees °C. Operating temperature & humidity: 90% RH. Available for use under harsh conditions. Tensile strength at cable mounting section: 60N. This is tough probe that also protects against disconnection/bad connection.
Made In Japan quality
We have been providing OEM production probes to oscilloscope manufacturers in Japan and around the world for more than 30 years. Our excellent quality and appropriately priced insulated probe is based on our long track record of probe design and production experience, and the tradition of craftsmanship of the Made in Japan mark.
Surprising size
Compared with other manufacturer's insulated probes, our probe body size is extremely small, at almost two-thirds the size of regular-sized probes. Its simple compact design allows for detailed measurements.
Simply easy to use
Coupling parts of the BNC connector can be rotated which means that even if used in connection with oscilloscope, the cable will not twist.
Embedded damping resistor in hook clip
With our unique design which is the insertion of a damping resistor into the hook clip, frequency bands can be maintained and overshooting has been greatly improved.
Measurement data comparison with other company products (for Reference)
Ideal contact
| | | |
| --- | --- | --- |
| Company | Equivalent product of other company | STACK IP072 |
| Result | | |
| Overshoot[%] | 17.0% | 15.0% |
Using with Ground lead and Hock Clip
| | | |
| --- | --- | --- |
| Company | Equivalent product of other company | STACK IP072 |
| Result | | |
| Overshoot[%] | 39.0% | 14.0% |
Overshoot data comparison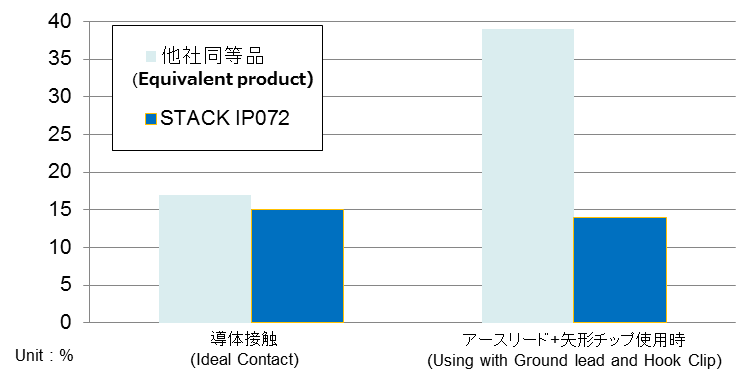 Stack succeeded the deterioration of the characteristics decreased by half! Stack insulated probe makes more correct electric wave measurement possible.
The overshoots which are very large in all companies products will effect to the waveform reconstruction. Specially, at the measuring condition of using with ground lead and Hock Clip, overshoots are very large. And as a result, these overshoots will make correct electric wave measurement difficult.

Our unique design of insert damping resistor will resolve this problems and make more correct electric wave measurement possible.
Specifications (3 Types)
Unit : mm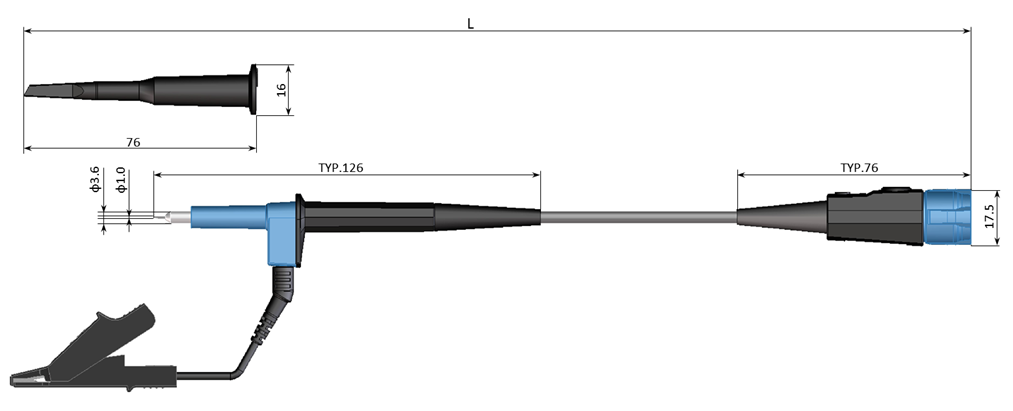 IP072 (RoHS)
(10:1 1.5m ver.)

IP073 (RoHS)
(10:1 2.5m ver.)

IP074 (RoHS)
(100:1 1.5m ver.)

Bandwidth(*1)
100MHz
60MHz
100MHz
Damping Ratio
10:1
10:1
100:1
Input Resistance/
Input Capacitance(*2)
10MΩ/14pF
10MΩ/14pF
10MΩ/4.5pF
Matching Input
Capacitance
5pF to 25pF
10pF to 25pF
13pF to 25pF
Voltage
CATⅡ 1,000V
CATⅢ 600V
CATⅡ 1,000V
CATⅢ 600V
CATⅡ 1,000V
CATⅢ 600V
Length
1.5m
2.5m
1.5m
Connector Type
Insulated BNC
Insulated BNC
Insulated BNC
Temperature(*3)
-30°C to +85°C
-30°C to +85°C
-30°C to +85°C
Humidity
90% RH@+40°C
90% RH@+40°C
90% RH@+40°C
Altitude
3,000m(Max.)
3,000m(Max.)
3,000m(Max.)
Pollution Degree
2
2
2
Attachments
Hook clip and ground lead
Hook clip and ground lead
Hook clip and ground lead
Hook Clip
Embedded damping
resistor
Embedded damping
resistor
Embedded damping
resistor
(*1) Excluding Oscilloscope features
(*2) In conjunction with a measuring instrument with an input impedance of 1MΩ
(*3) Probe Head and Cable Assembly only

News&Topics
Succeeded to receive the measures to support global technical collaboration subsidized by National Federation of Small Business Association of Japan.
We, Stack Electronics continuously supports the disaster area of Tsunami and Earthquake through business.
http://www2.chuokai.or.jp/hotinfo/global-ippan-saitaku20120321.pdf
(japanese)
Inquiry
Please fill the following blank and click the "check message contents"
*
is Required fields.